Friends With Benefits Program
Membership has it's privileges!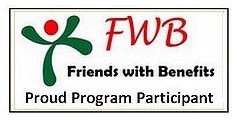 Gay Camping USA is proud to announce a new discount program that will benefit YOU, the gay camper! The Friends With Benefits program is brought to you by Gay Camping USA and the gay camping industry itself. FWB is a collaboration between Gay Camping USA and participating gay campgrounds in the United States and Canada. The purpose of the program is to extend a special discount for those campers who have a valid and current membership in one of the participating campgrounds.
Simply present your membership card (or proof of purchase) when checking into to a participating campground and receive 50% off your membership fees! There's just a couple of terms you need to know:
1. To receive a Friends With Benefits discount, each camper must hold a valid and current membership (or proof of purchase of a membership) from a participating park. If presenting proof of purchase, membership must have been purchased during a previous stay at a participating campground during the current year. Pre-paid memberships for future bookings are not applicable in order to receive the discount.
2. The FWB Program is a discount program and not a membership or club program. Membership in a participating park is not guaranteed. As each Campground is a private property, they reserve the right to issue and manage memberships based on their own respective membership terms, criteria and guidelines. Each campground reserves the right to refuse memberships or service to anybody.
The gay camping culture is very diverse, and each gay campground is unique onto itself. Participation on behalf of each campground in the FWB Program does not constitute an endorsement or referral to another participating campground. Part of the fun of gay camping is checking out different campgrounds and finding the ones that suit your tastes best!
Happy Camping!
Last updated February, 2021

Comments:
comments powered by